Landmark photographic archive linked to Allen Ginsberg and celebrating Pride and LGBTQ+ rights to headline Swann Auction Galleries' sale marking 50 years of Stonewall
ALL IMAGES COURTESY OF SWANN AUCTION GALLERIES
New York auction house's Pride Sale also honours others who contributed to the cause since the 19th century
A photographic archive tracing the history of New York City's Pride Parades in the 1970s and '80s, annotated by the Beat poet Allen Ginsberg (1926-97), is coming to auction on the eve of the 50th anniversary of the Stonewall Uprising.
Swann Auction Galleries, who will be selling the archive in The Pride Sale on June 20, have put an estimate of $70,000-100,000 on the collection by Hank O'Neal (b.1940), the celebrated photographer, author and music producer.
A portion of the sale's commissions will be donated to benefit The Leslie-Lohman Museum of Gay and Lesbian Art in New York City.
The archive comprises 120 photographs of New York City's Gay Pride Parades by Hank O'Neal, each annotated by Allen Ginsberg, as well as an additional group of approximately 165 photographs by O'Neal of the NYC parades, five of which are signed and dated by O'Neal and contain Ginsberg's captions.
Today at least a million spectators line the Pride parade route along Fifth Avenue. But, in its earliest days, the celebration was a much smaller event characterised by NY-style high energy, pithy signage, raucous crowd chants, extensive cruising and great music.
Dating from 1974-83, the images capture the importance of the parades to the early Gay Liberation Movement, depicting an array of fun-loving and politically-motivated participants, several openly displaying affection.
Most of O'Neal's photographs focused on NY's West Village or Christopher Street, the epicentre of the community. A range of sub-cultures associated with the LGBTQ+ community are depicted: young and longhaired post-hippies, bare-chested muscle men, drag queens, fairies, leather-ites, Gay Daddies, protestors, pastors, parents of gays and the hikin dykes. Some participants hold placards, including those protesting against Anita Bryant, the once-popular singer, who emerged as a strident anti-gay crusader in the late 1970s and teamed up with the divisive Evangelical figure Jerry Falwell. A banner for the Gay Men's Health Project is a harbinger of the tragic era to come.
Among those pictured is activist Marsha P. Johnson, whose image Ginsberg inscribed to the reverse: "If I keep dressing up like this I'll save the world from Nuclear Apocalypse. But will anyone love me for it? I'll save the world anyway. I know what looks good."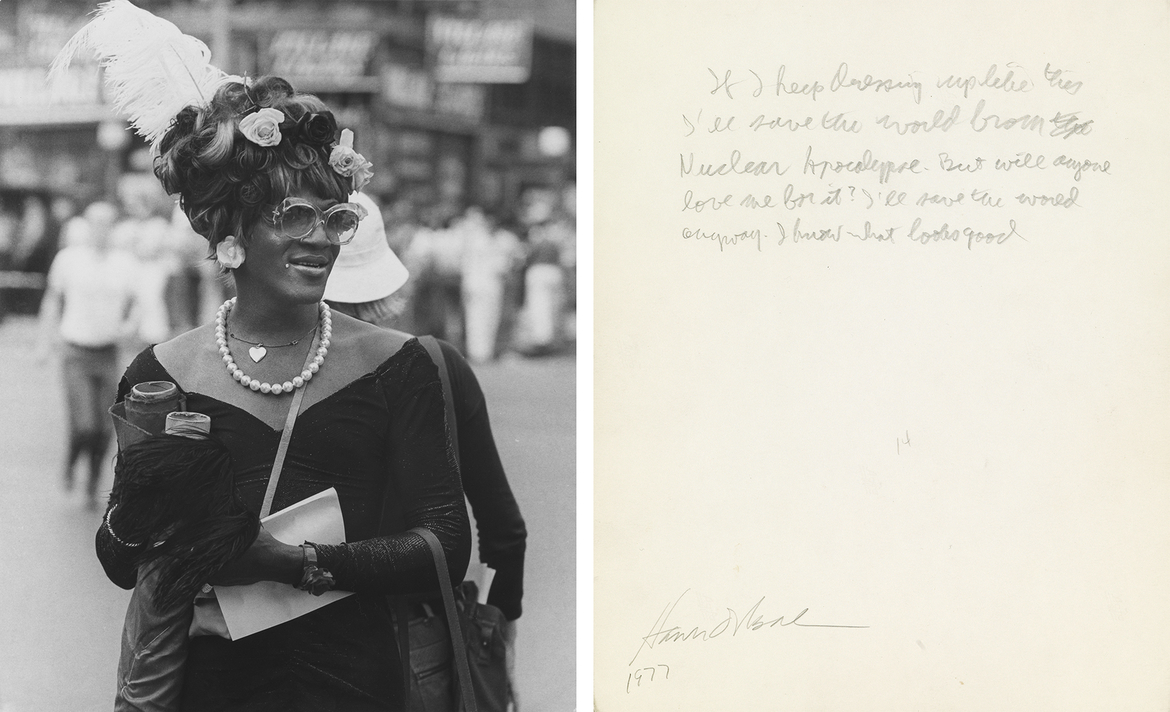 Caption: Activist Marsha P. Johnson in another photograph annotated by Allen Ginsberg from the archive.
How Allen Ginsberg became involved in the archive
Ginsberg first saw the photographs in 1982 and, according to O'Neal, was inspired to add his distinctive captions to the backs of the prints. His brief handwritten notes, which often reflect personal or historic observations, strike a wonderful tone.
A caption that accompanies a picture of a group of men holding the banner WE ARE EVERYWHERE reads, "We all look pretty normal, boy next door, handsome punk, ad man's delight, daughters of the American Revolution." A shot depicting two men dressed in ancient Roman costume reads, "Clark Gable and Nero on a date, smiling for the 1920s Hollywood photogs."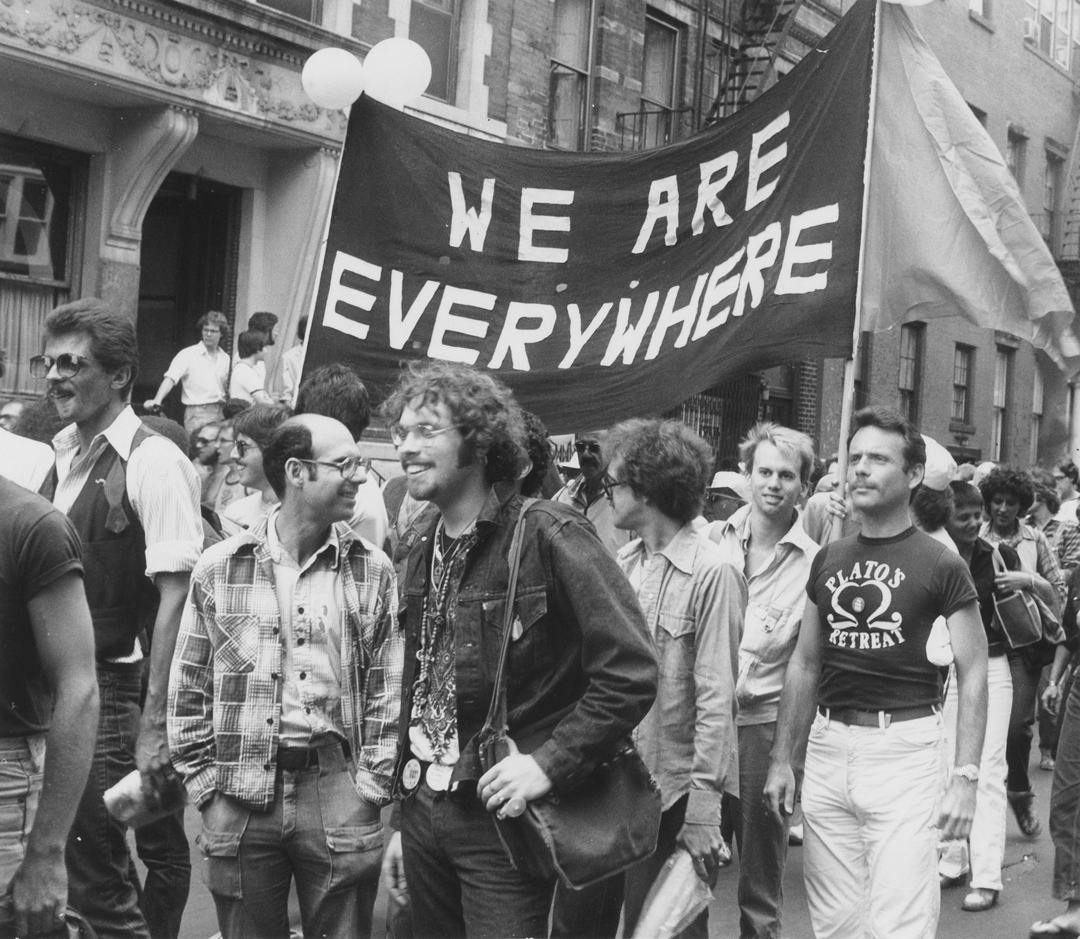 Caption: We Are Everywhere, one of the images from the archive annotated by Allen Ginsberg, as follows: "We all look pretty normal, boy next door, handsome punk, ad man's delight, daughters of the American Revolution".
Others honour the courageous and brave: one participant holds a wreath bearing the name Harvey Milk; Ginsberg wrote, "Harvey Milk died for your sins." (He had initially written "our" but crossed it out.)
O'Neal's photographs were reproduced in the book, Gay Day: The Golden Age of the Christopher Street Parade, 1974-1983 (Abrams, 2006), with a preface by William Burroughs. Interestingly, during this same period Ginsberg had revisited his own Beat-era photographs, which were shot in the 1950s and processed at a local drugstore. He developed a unique hybrid picture-text style, adding detailed, handwritten mini-narratives to the lower margins of the prints, which captured his vivid, visual memories.
The archive is part of a wide-ranging catalogue charting the course of Gay Rights Movement, many of the lots consigned by LGBTQ+ owners.
Further highlights include outstanding and historic pieces such as a Remembrance copy of Walt Whitman's Memoranda During the War, inscribed to Peter Doyle, from "the author, with his love", and published in 1875-76. The estimate is $50,000 to $75,000. Much has been debated about Whitman's sexuality, but his masterpiece, Leaves of Grass, published in 1855, included some of the earliest writings made public that explore what appear to be queer love. As such, he is an important figure in the history of the LGBTQ+ movement.
A signed, extra-limited first edition of Oscar Wilde's play The Importance of Being Earnest, A Trivial Comedy for Serious People, dating to 1899, also features and is estimated at $40,000 to $60,000.
From around 1920 comes Gerda Wegener's watercolour, chalk and wash painting Two Women in a Window, estimated at $15,000 to $25,000, while from 1953 comes a first edition of James Baldwin's Go Tell It On The Mountain. The estimate is $800 to $1,200.
Fred W. McDarrah captured the Sip In, an event that presaged Stonewall by three years when three young men, members of the early gay rights group the Mattachine, set out to challenge bars in New York City that refused to serve gay people. After several false starts at bars that were either closed or unwelcoming, the three were indeed served drinks – on the house – by two bars after declaring their orientation, before moving on to Julius.
As the bartender at Julius started to serve them, the men told him they were gay, at which point he refused to continue by putting his hand over the glass, and it was this moment that McDarrah captured on camera for The Village Voice. A silver print of this 1966 image, printed in the 1990s, is on offer in the auction at an estimate of $1,500 to $2,500.
Important lots from the early 1970s include Su Negrin's Gay Liberation poster, based on a photograph by Peter Hujar transformed into a poster published by Times Change Press in 1970, estimated at $400 to $600, and Donna Gotschalk's poster, Sisterhood Feels Good, also published by Times Change Press, in 1971 and estimated at $400 to $600.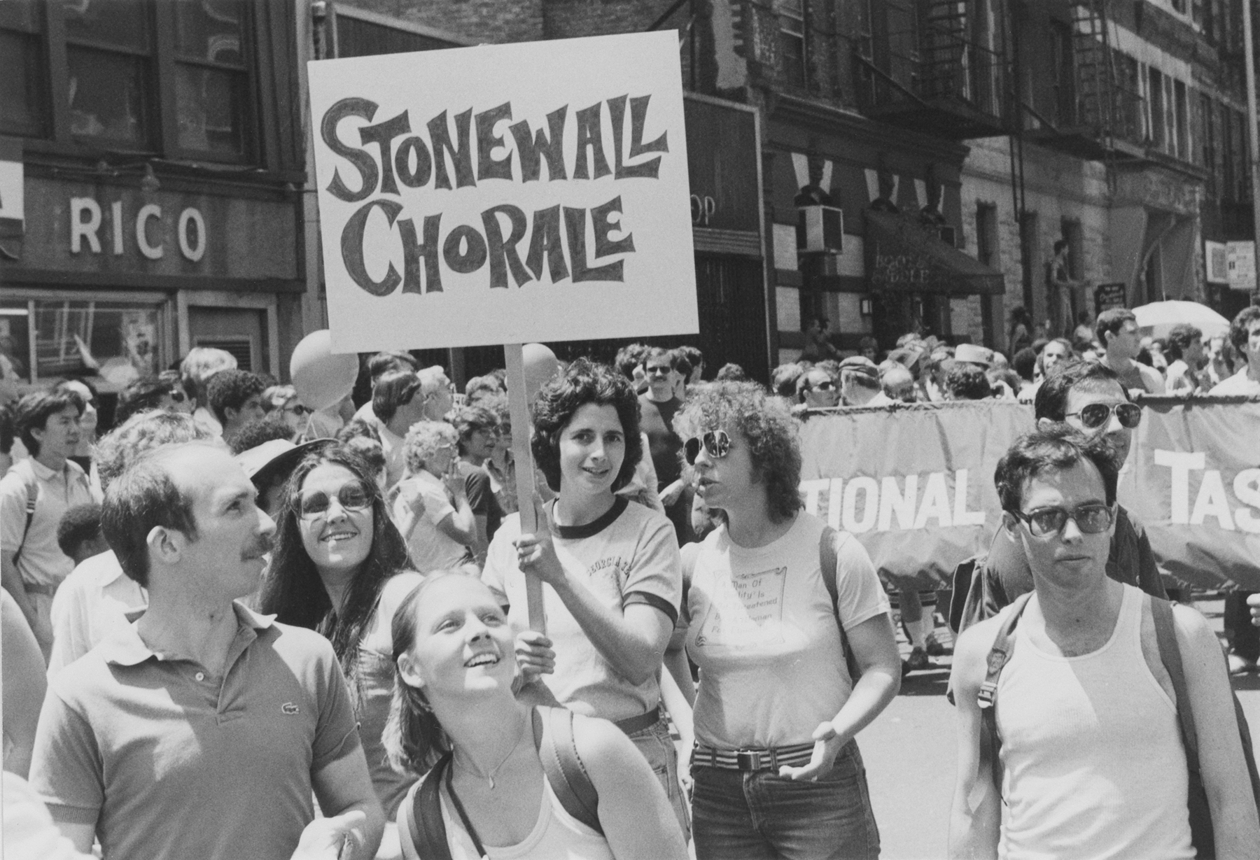 Caption: Stonewall Chorale, from the archive. Also annotated by Allen Ginsberg.
Later in the decade, the gay rights campaigner Harvey Milk became the first out elected official in the history of the state of California. Winning a seat as a city supervisor in November 1977, Milk used his brief time in office to champion LGBTQ+ rights by successfully sponsoring a bill banning discrimination in various areas, such as housing and employment, on the basis of sexual orientation.
It was during this period that he wrote the signed, autograph letter to two friends declaring how he thought they "should have a memo from the 1st up front gay mayor of any city – it's for real!!"
Tragically, Milk's campaigning was brought to a premature and violent end on November 27, 1978 when he was assassinated alongside Mayor George Moscone.
Despite the brevity of Milk's official political career, his influence and importance have made him an icon in the LGBTQ+ rights movement. The letter is estimated at $4,000 to $6,000.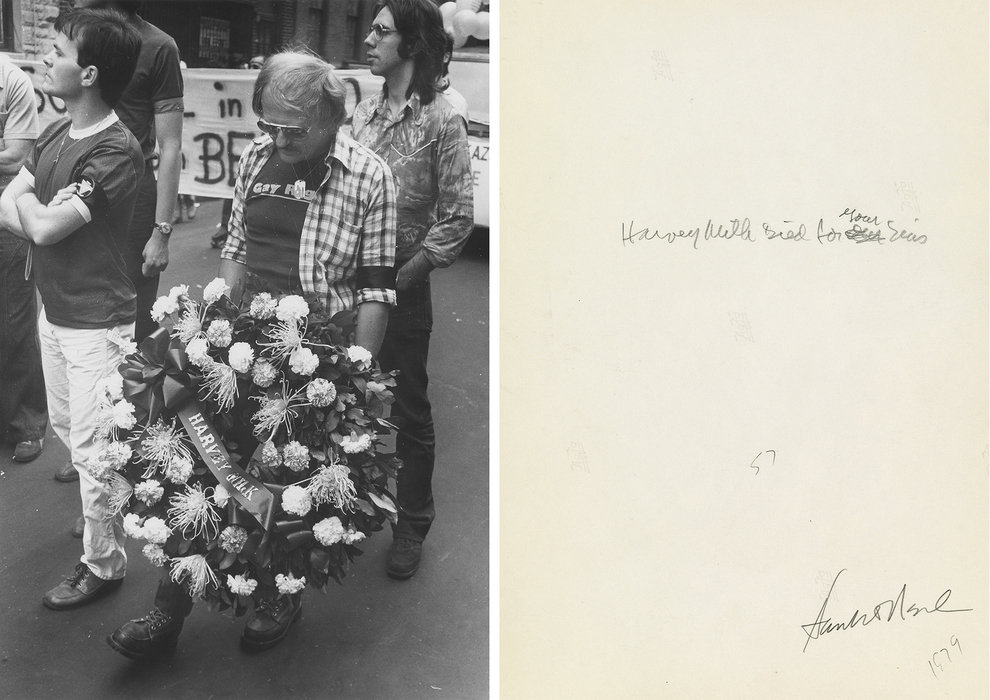 Caption: A marcher honours the assassinated gay rights campaigner and politician, Harvey Milk. Ginsberg wrote: "Harvey Milk died for your sins."
Another great icon of the LGBTQ+ movement is Robert Mapplethorpe, the New York photographer, whose highly stylized black and white images encompassed striking subjects as diverse as portraits of celebrities, still lifes of flowers and gay and BDSM culture.
The sale includes an example of his Z Portfolio of 13 silver prints from 1981, with an estimate of $40,000 to $60,000.
"Swann is thrilled to be hosting its inaugural Pride Sale and proud to continue supporting the community through a fundraising effort alongside the auction," says President of Swann Auction Galleries, Nicholas D. Lowry.
"We see this as an important and unique event among the many happening this June, recognizing the historical, literary and artistic achievements of LGBTQ+ writers, artists and activists," Lowry continued. "This auction will celebrate the community and give collectors, connoisseurs and the curious an opportunity to observe and bid on a range of material from the last two centuries, with manuscripts, autographs, literature, art, photography, posters and more."
Auction title: The Pride Sale
Auction date: Thursday, June 20, at 1:30 pm (EST)
Preview dates: June 15, 12-5; June 17-19, 10-6; June 20, 10-12
Exhibition officially opening Saturday, June 15
LGBTQ+ media: Cathy Renna • cathy@targetcue.com • Tel: +1 917 757 6123
UK media: Julia Macquisten • info@lucasfieldmedia.com • Tel: +44 7968 952850
US media: Alexandra Nelson • alexandra@swanngalleries.com • 212-254-4710 x 19
Social media: @swanngalleries
PRINTED CATALOGUE & ADDITIONAL DIGITAL IMAGES AVAILABLE ON REQUEST
About Us
Swann Auction Galleries is a third-generation family business as well as the world's largest auction house for works on paper. In the last 75 years, Swann has repeatedly revolutionized the trade with such innovations as the first U.S. auction dedicated to photographs and the world's only department of African-American Fine Art. More than 30 auctions and previews are held annually in Swann Galleries' two-floor exhibition space in Midtown Manhattan, and online worldwide. Visit swanngalleries.com for more information.